Buy, Charter or boat share in Phuket Thailand… What's best for you?
November 20, 2021
We'd be underselling it if we didn't say that Thailand has some of the best sceneries you'd find anywhere in the world and has now become one of Asia's leading yachting destinations. Phuket in particular is adorned with rugged mountains and a massive coastline fringed with tiny islands and Karst formations, making it a paradise for sailing and boating enthusiasts.
Phuket has amazing sunsets, beautiful beach views, and plenty of locations that provide beautiful panoramic sceneries which can all be enjoyed in comfort and style from the deck of your motorboat or sailing yacht. So the decision to go boating in Thailand is a no-brainer, but the question about whether you should buy, charter, or boat share in Phuket, is a valid one worth exploring:
As Phuket Thailand has become one of the premier boat chartering destinations in Asia, there is now a myriad of boat and yacht charter companies and agencies in Phuket which can provide a wealth of yacht options from Motor and powerboats, through to sailing yachts, catamarans or even superyachts. The benefits of chartering are that you can get the best out of a yacht, without having to worry about any of the maintenance costs associated with owning a yacht.
Chartering also means that you can use different boats for each charter, giving you variety and allowing you to choose the most suitable yacht for your vacation charter experience. There are three types of yacht charter available for those looking to charter boats in Phuket:
Bareboat Charter – This Charter allows you to sail by yourself to all destinations you've dreamt of visiting. Whether or not you'll need a license for this type of Charter depends on the lease; however, most charters are license-free.
Crewed luxury boat charters – You could also get crewed charters in Phuket, Thailand. The crew will take care of everything you'll need while sailing, including sailing, maintenance, navigation, cooking, and cleaning.
By the cabin luxury boat charters – By the cabin charters allow you to have a good time without all the hassle involved with sailing. You'll have a skipper who'll ensure you reach your destination and all you'll have to do is ensure that you have a great time.
Chartering boats in Phuket Thailand means you get to sail the blue waters, explore the corals and relax on one of Thailand's many beaches. Create memorable experiences, and explore Thailand's numerous islands in privacy, comfort, and style. Get the chance to island-hop, surrounded by cool blue waters, Karst formations, and numerous tiny islands waiting for you to explore them. You get all the benefits of owning a yacht without the negatives of maintenance, but you will pay a premium for your yachting vacation.
Boat Sharing in Phuket Thailand
Boat sharing is a relatively new concept in Phuket, but has become a common thing in Europe and The USA in recent years. Boat or Yacht sharing allows you to enjoy the benefits of owning a boat, while allowing you to share the ongoing maintenance costs with someone else, keeping the total costs of boat ownership to a minimum.
However, if you would like to go for a boat-sharing option, it's important that you have a good relationship of trust with your co-investor and that you find a good boat maintenance provider to ensure that your boat is maintained to the highest standards so that it is available for your use as and when required.
When buying a boat, yacht or superyacht in Phuket Thailand, There are a few questions that you could ask yourself before buying a yacht. Getting the correct answers to these questions will help you make the right yacht purchasing decision:
Ask yourself:
Which boat or yacht best suits your needs?
Would you like to buy a new or used boat or yacht?
Is your boat or yacht certified?
Can you comfortably afford the boat or yacht?
If you can't afford it, can you get some financing?
What to do next:
Visit The Thailand International Boat Show from 12-15 January 2023
Mingle with the exhibitioners and determine when and where to make your purchase.
Do your research and learn more about yacht values and how you'd go about the negotiations.
Take the yacht for a sea trial and marine survey.
Close the deal and learn more about boat registration, insurance, and taxes.
The upcoming Thailand International Boat Show (TIBS) event at Royal Phuket Marina is a great place to start where you can explore a wide range of luxury yacht options from some of the world's greatest boating brands.
The Thailand International boat show is set to take place between 12th and 15th January and will be attended by over 6000 visitors and more than 100 exhibitors. If you are interested in boating and a luxurious lifestyle, then this is the place to be.
This will be the best opportunity for you to admire, experience, and purchase some of the finest luxury yachts money can buy. Get to choose between power yachts and sailing yachts, dinghies, day-trippers, and even superyachts.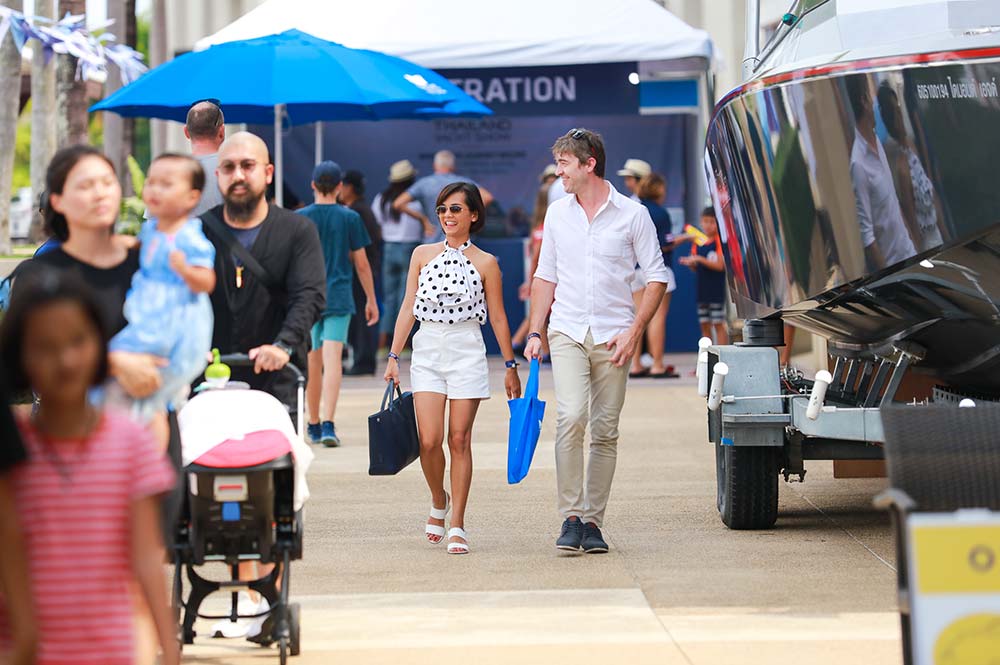 There are lots of reasons to attend Thailand's largest maritime event. Apart from the luxurious boats, automotive, and jewelry, you'll get the chance to experience Thailand's rich culture, amazing live songs, wine tasting, sailing lessons, and various product launches.
Meet and greet high-end property developers, dealers in luxury jewelry, and leading people in various industries like the automotive industry, hospitality, food, and beverages and network with some of the best industry professionals in various fields
The global third largest superyacht destination attracts all major players in the industry, allowing visitors to access over 50 yachts in the marina. The event also provides an opportunity to meet with local brokers, marine service providers, and charter companies.
Assess, purchase, and upgrade
If you already own a yacht, you'll get the chance to assess all the latest electronics, hardware and decide whether you'll get the upgrade you've been considering. If you don't have a boat yet and are willing to get yourself one, this could be the perfect opportunity to speak with experts and get your dream boat.
Explore
Apart from the stunning yachts, you'll also get the opportunity to observe the latest marine technology innovations and watersport gadgets. You'll also get to look at work from some of the best fashion designers, great home furnishings, luxury car brands, property developments, etc. You could also tour the city and try some local foods from gourmet food stands and maybe a drink or two from some pop-up bars.
Mingle
A yacht show wouldn't be authentic without a couple or more parties, and as such, there are many different events planned for the four-day yacht show. You'll get your chance to mingle with friends, network, or unwind with family and friends while sipping your sundowners.
What else can you do while in Phuket, Thailand?
If you are looking for the best winter destination, then Phuket Island, Thailand, may just be it! You could combine your trip to the yacht show and the fun winter activities to get the perfect holiday experience. Phuket has the best and whitest beaches, great restaurants, amazing accommodation, and one of the best sailing experiences in the world.
Heritage and culture
You could also enjoy the local cuisine and experience the local culture. Thailand's local culture is often overlooked by tourists who often head straight to the beach. Exploring Phuket town will take you back to the island's Sino-Portuguese era when it was Asia's central tin mining industry.
If you love art and jewelry, then you should head over to Phuket town. The town has been revamped and restored to its former glory. They now house boutiques, restaurants, art galleries, jewelry shops, hipster cafes, and wine bars.
Diving, water sports, and amazing sunsets
The many tiny islands around Phuket and the Andaman Sea provide some of the best diving spots globally. The area showcases amazing seascapes, beautiful marine life, and colorful coral gardens.
Charter a boat and get to observe the busy reefs, swim with whale sharks, and observe the majestic sea turtles. This will be an amazing experience for experienced divers and beginners alike and a chance to appreciate Phuket's underwater scenery.
Like what you hear? Register today for your Free tickets to Phuket's first International Boat Show in 2 years and talk to industry-leading brands and charter companies!