MODERN LUXURY CULTIVATED IN THAI TRADITION
November 12, 2021
MODERN LUXURY CULTIVATED IN THAI TRADITION.
The Thailand International Boat Show is delighted to have the InterContinental Phuket Resort as one of its key exhibitors and sponsors. 
"It is quite an achievement for the island of Phuket to stage the Thailand International Boat Show 2023 in January as soon as tourism starts to assume normalcy," says Bjorn Courage, the general manager of the Intercontinental   Phuket Resort. "The show will attract participants from boating to luxury lifestyle exhibitors and visitors. Currently the first boat show in Asia in three years, it will put Phuket back on the map of international luxury travelers. We are excited to be a part of it by being a local hospitality partner and by hosting the show's gala dinner. We eagerly look forward to welcoming the participants to the island." 
The resort is one of the finest in Thailand featuring 221 elegantly appointed rooms and villas, a haven that encapsulates all you desire in a tranquil, luxurious retreat. Spectacular views of the Andaman Sea and lush mountain vistas provide a stunning backdrop to the resort's distinct features. Direct beach access, world-class dining, and extravagant wellness journeys are only a few of the delights that await you. The resort's luxurious accommodation is set amid enchanting manicured gardens with a private lagoon.
Every aspect of the InterContinental Phuket perfectly blends traditional Thai heritage and  world  renowned  hospitality  with  modern  design  and  an  inquisitive  eye.  
Located just a 30-minute drive from Phuket International Airport, the InterContinental Phuket Resort is located on the quieter and more secluded Kamala Beach, well  within a sheltered bay, surrounded by forested hills and a fishing village nearby.
In an elegant blend of rich and earthy tones, the InterContinental Phuket Resort's collection of rooms, suites, and villas feature Ocean, Pool, Mountain, or Garden views. Each room, suite, and villa is a meticulously designed, escape   inspired   by   the   natural   surroundings, while fusing traditional Thai and contemporary designs.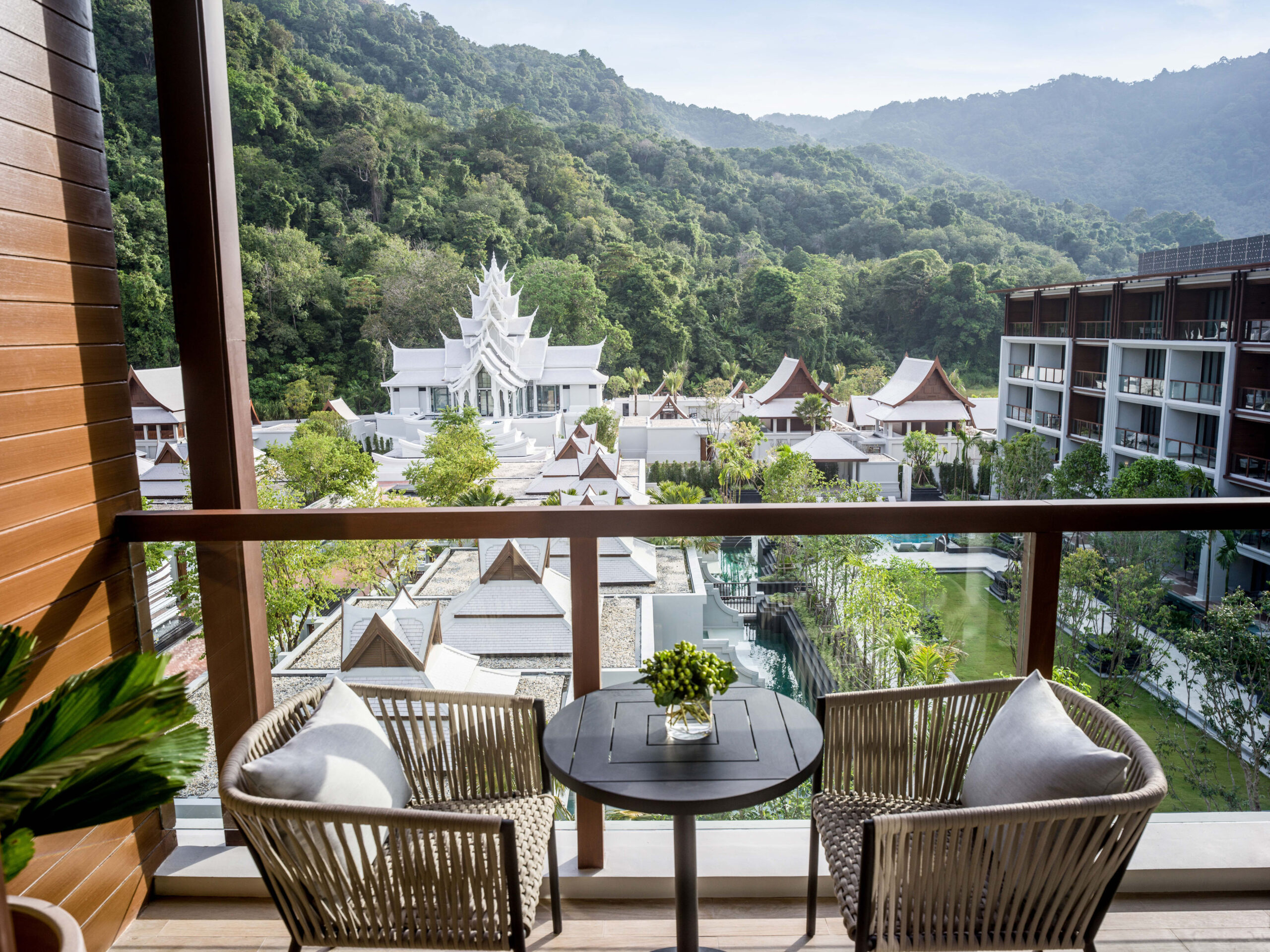 The Club InterContinental® Lounge and Pool, located in the beachfront area, boasts a breathtaking panoramic sunset view of Kamala Beach. Exclusive to Club InterContinental® guests, this sanctuary is a perfect place to rejuvenate with complimentary dining & drinks.
From curious discoveries to exquisite destination dining, immerse yourself in an array of curated culinary journeys.  Discover  the  tastes  and  textures  of  local  cuisine,  creatively  re-imagined  and  freshly prepared with sustainably sourced local and regional ingredients at Jaras. Enjoy a selection of international gourmet fare in an elegant marketplace-inspired setting at Pinto or savour delectable light bites and craft cocktails at the Pine Beach Bar.
Located within the resort's Sawan  (Heavenly)  Pavilion,  the Sati  Spa  &  Wellness®  offers  unique  signature  treatments inspired by venerated local traditions and time-honored natural remedies especially designed with the guests in mind. It features eight treatment rooms, Duet Suites with a Jacuzzi, and full service nail salon for truly personalised and romantic spa journeys. Sati Spa only uses natural products from Thailand's award winning HARNN brand and customized locally sourced floral scented oils.
The hotel, along with IHG as an organization, have built its reputations on a commitment to the health  and  safety  of  their  guests  and  colleagues  through  the  IHG  Way  of  Clean. In 2020, the IHG Clean Promise was launched to reassure guests that their rooms will meet IHG's high cleanliness standard.  If not, the hotel will make it right.  Intimate to extravagant, business formal to beachside casual, IHG can facilitate your perfect event, whatever the occasion. 
Live  the  InterContinental  Life  while  discovering  Phuket's  myriad  facets  from  tranquil  serenity  to  delectable cuisine. 
Contact Info
333 Moo 3, Kamala, Kathu,Phuket 83150 
T: +66 (0) 76 629 999
W: phuket.intercontinental.com